How To: Setting Up A Mail Gateway¶
Warning
A mail gateway under high load may need a lot of memory and CPU power. Keep in mind that the components have some hardware requirements like the ClamAV- and the Redis plugin. It is not recommended to run this software on weak hardware.
Installation¶
First of all, you have to install the required plugins from the plugins view.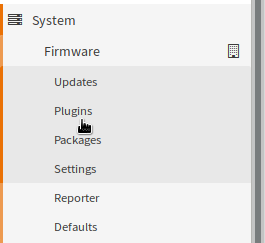 The required plugins are:
ClamAV

Postfix

Redis

Rspamd
After a page reload you will get some new menu entry under services for all installed plugins.
Configuration Of The Plugins¶
Follow Up Tasks¶
In the next step, you should go to the Firewall menu. Create a new rule to pass port TCP/25 traffic from Any to This Firewall.